TeamViewer14.4.2669 Version Download + Active / Activation
TeamViewer is a remote control software that is compatible with Microsoft Windows, Mac OS X, Linux, iOS, Android operating systems. You can also connect to a computer with TeamViewer installed via a web browser.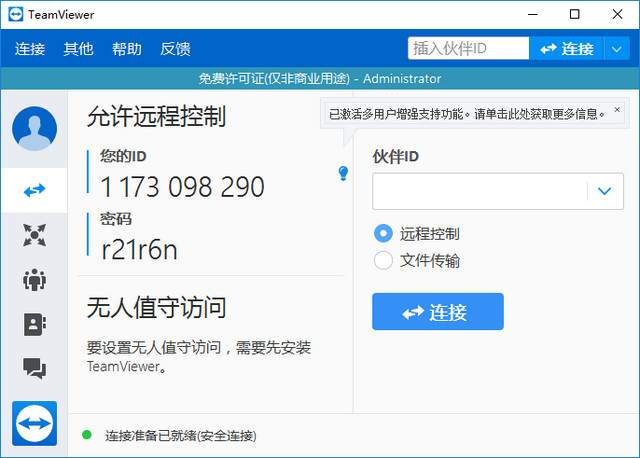 TeamViewer14.4.2669 Download
Features
TeamViewer is an operating system for Microsoft Windows, macOS, Linux, Chrome OS, iOS, Android, Windows RT, Windows Phone 8, and Blackberry. TeamViewer can also access a machine running TeamViewer through a web browser. Although the primary purpose of this software is to remotely control the computer, it also includes contract collaboration and demonstration capabilities.
History
TeamViewer is available for free for non-commercial users, as well as Business, Premium and Corporate editions.
TeamViewer GmbH was founded in 2005 in Göppingen, Germany. In 2004, Permira, a UK-based private equity firm, acquired TeamViewer LLC, a software developer at GRM Software in Dehan, North Carolina. The company also offers an online backup cloud service called Airbackup.
Download
TeamViewer Installation Package Official Website Download
The latest version of TeamViewer14 is available for download at:
https://dl.teamviewer.com/download/version_14x/TeamViewer_Setup.exe
Activation Tool Download
Download link:
TeamViewer Activation Tool TVTools_AlterID Download
Activate
Unzip the TVTools_AlterID.zip file, containing two files TVTools_AlterID.exe and ChangeID.bat
Copy TVTools_AlterID.exe to the TeamViewer installation directory
You may need to change the ChangeID.bat file depending on the installation directory.

@echo offtaskkill /f /im tv*taskkill /f /im teamviewer*cd "C:\\Program Files (x86)\\TeamViewer"start TVTools_AlterID.exe -sstart TeamViewer.exe 

Change line 4 C:\\Program Files (x86)\\TeamViewer to TeamView's installation directory.

Place ChangeID.bat in the appropriate location (eg desktop) as needed
When TeamViewer is not available and you need to change the ID, just Run ChangeID.bat as administrator.
下载仅供下载体验和测试学习,不得商用和正当使用。